Monthly Archives:
May 2014
The Adeline was featured on NBC's Open House. Click here to view the full video, and visit The Adeline.com and HPDMNY.com for availability and more information.
Stephen Kliegerman, president of HPDM, was quoted in the current issue of Alexa about landscaped courtyards in developments. Full article here. The article also mentions the courtyards at 540 West, located in Hells Kitchen and 21W20 in the Flatiron.To learn more about 540 West and 21W20, visit 21W20.com, 540West.com and HPDMNY.com.
We sat down with the Sales Team at 21W20 to get some more information on this stunning Flatiron project. Thank you to the Stephen McArdle and the team for taking time to share with us.
HPDM: Tell us about this development.
Sales Team: 21 West 20th Street is an ultra-luxury residential development of 13 full-floor homes located in the heart of Manhattan's Flatiron District. Interior architecture has been designed by MR Architecture + Décor, with a disciplined aesthetic that focuses on a rational and inspirational approach to space, proportion, and light.
A modern balance of blackened stainless steel, glass, and stone adorn the façade as you arrive at 21W20. Rising to the tenth floor, the building then unfolds to its full breadth of 100' wide to reveal three floor through 4+Bedroom penthouse homes perched atop the neighboring restored, landmarks-protected structure. All with private terraces and floor-to-ceiling southern exposure, folding terrace doors slide to allow for a seamless connection of indoor and outdoor living space. The discreet integration and the sophisticated yet subtle design of each individual residence reflects the development team's unwavering devotion to creating living spaces that truly enhance the vibrant lives of each home's inhabitants.
HPDM: When did 21W20 open for sales?
Sales Team: We launched sales of the Penthouses in January of this year.  We then released our 2 bedroom floor through homes in March of this year.
HPDM: What is the % Sold so far?
Sales Team: We are over 40% sold.
HPDM: What are some development highlights at 21W20?
Sales Team: Having over 100′ of frontage both North and South for our PH homes is unmatched in the marketplace today.  Also, having up to 4,800sf of living space on a single level sets this development apart from most all others.  The Sponsor is currently combing the 13th, 14th, and 15th floors to create an incredible Rooftop Penthouse of over 7,000sf interior and over 3,000 exterior space.  We expect to launch the sales of this amazing unit toward the end of the summer.
HPDM: What makes 21W20 stand out?
Sales Team: Unlike many new developments that are created from the outside in, this development has been meticulously planned for the living experience inside your home.  The greatest of care and attention has been dedicated to the layouts, materials and interior design elements.
HPDM: What's on the market right now?
Sales Team: Currently we have one two bedroom, two bathroom home available, as well as two breathtaking PH Units, #1 & #2.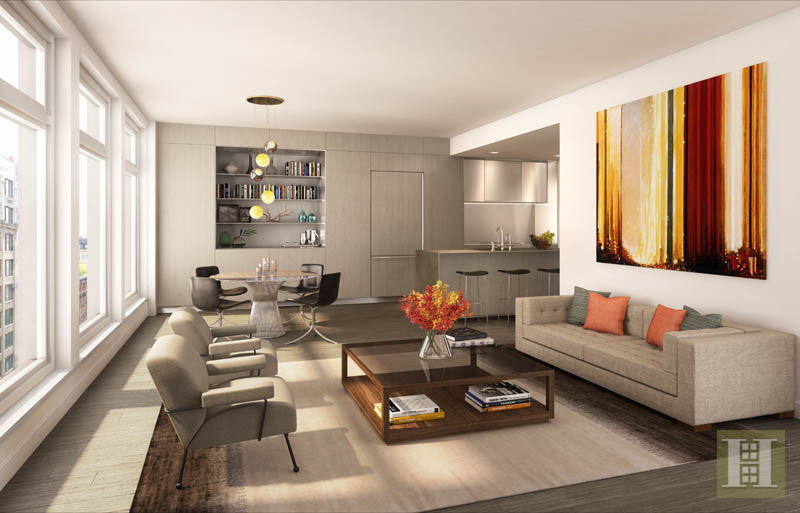 HPDM: Which unit would you live in and why?
Sales Team: I would choose PH 1. The incredible layout of over 4,800sf with 2 private terraces is in my opinion the best layout in "Downtown" Manhattan.  The scale and graciousness of this unit, which was designed by David Mann of MR Architecture, combines the classic "Uptown" layout with a downtown loft feel.
HPDM: How can I learn more about 21W20 or schedule an appointment?
Sales Team: Stephen McArdle, 646.641.3343.  Sales Gallery located at 540 Madison Avenue, 38th floor at the offices of the Developer, Gale International.